To see the particular ticket from the list/ open a single ticket view, click its title on the tickets list.
You will see: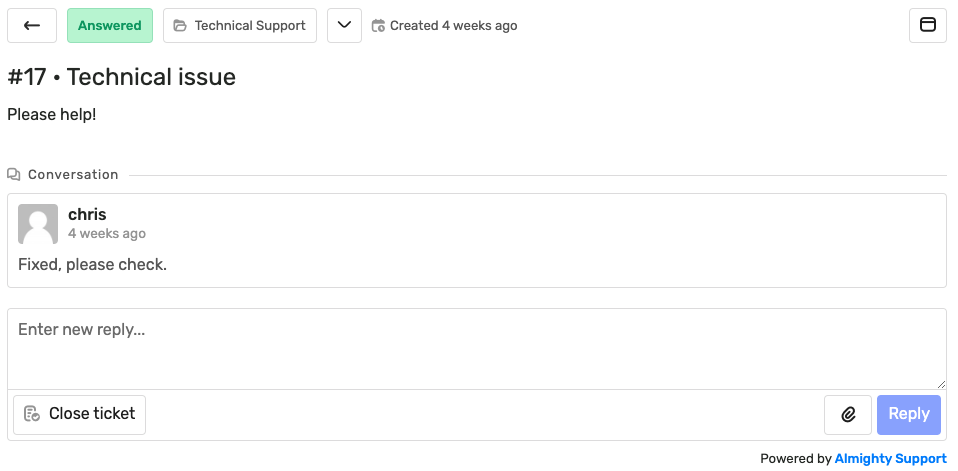 – the "Arrow/ back" button, to go back to all tickets list (you can also right-click/ middle-click that button to open the all tickets list in a new tab).
– the current status (New, Pending, Pending-Escalated, Pending-On Hold, Answered, On Hold, Trashed)
– the assigned department
– the "Jump to bottom" tab
– the time/ date when the ticket was created
– the focus/ full-screen button

Below, there are the ticket number and subject, and your question/ ticket content.
Next, under the "Conversation", you will see the whole history, questions and replies, and attachments (if any).
Also, any actions performed by the support agent and client, such as assigning to an agent or department, changing status, setting a ticket not to be closed automatically, or, entering/ deleting a private note.
All such changes are recorded and shown in the ticket as below: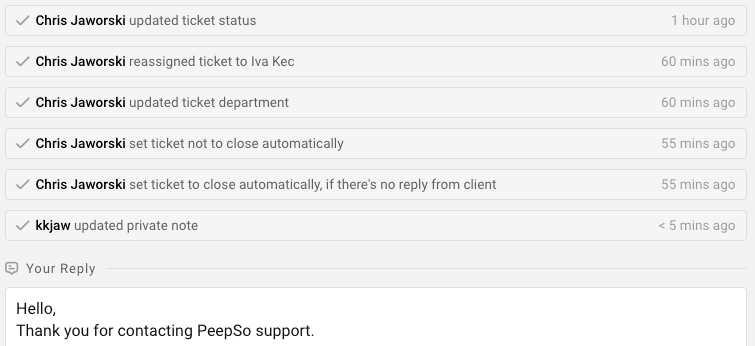 At the very bottom, there is a box to write your reply, and a "Reply" button to send it. The button to close that ticket is also there. You can also attach the file to your reply.

You will see the additional info about the allowed extensions and the maximum attachment size when you press this button. More information about attaching files you can find here: Documentation > Frontend Client > Attachments.
https://my.almightysupport.com/documentation/frontend-client/attachments-3/