You can enable the "Private ticket notes" and "Staff notes" features here: WP-Admin > Almighty Support > Configuration > Notes.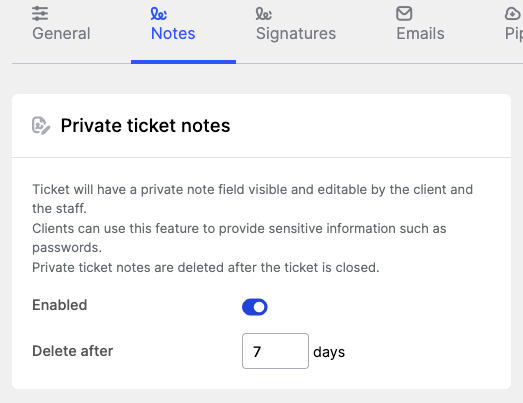 When enabled, a unique solution for sharing sensitive information- a secure and dedicated box is added to the tickets:

This box is visible and editable by clients and support staff. To show a note, you need to click the show/ hide eye icon.

Private notes are deleted after a selected number of days after the ticket is closed. Admin can set (min. 1 day, max. 365 days) the "Delete after" period.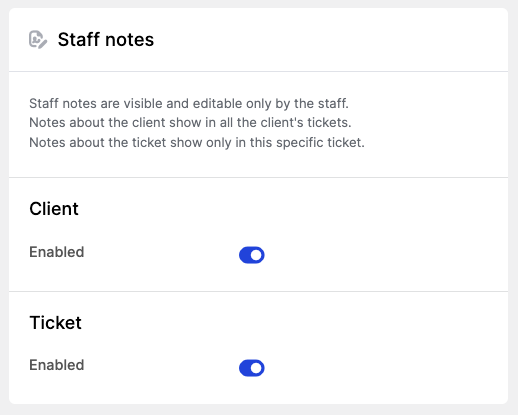 Staff notes are accessible and visible only to all staff members (clients don't see these notes). In order to share information and improve collaboration within the support team, agents, managers, and admins can add two types of notes to the ticket.
Staff notes about the client- to provide important client-related information. This note will be attached to all tickets that have been or will be ever sent by this client.
Staff notes about the ticket- to add some important information specific to the current case/ this ticket. This note will be attached only to that one specific ticket.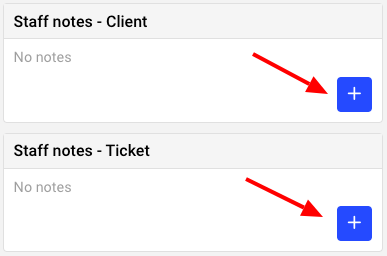 After publishing, these notes cannot be edited/ modified. Support staff members can delete notes. Deleting "Staff notes- Client" in any ticket removes them from all tickets of that client.



The video tutorial that covers notes: